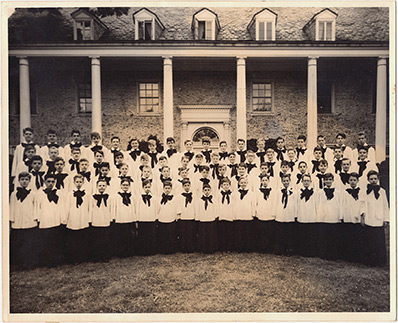 In August of 2017, the American Boychoir School declared bankruptcy and closed its doors. The closing of the school, and the disappearance of the choir has left a void in the choral arts world. The 80-year legacy and history needed to be saved and archived and the opportunity that the school and choir provided to developing young men, we believe, is an experience that positively changes lives for the better and should be made available to talented boys.
Upon hearing of the closure of ABS, the Foundation switched gears from support to rescue and rebuild. In April of 2018, with the generous support of Columbus Boychoir and American Boychoir alumni, former staff, family of alumni and other supporters of this wonderful institution, we were able to purchase all of the assets (except for vehicles and pianos) and all of the intellectual property of the Columbus Boychoir, American Boychoir and American Boychoir School. We are still in the process of retrieving all of the assets (please contact us if you have any information on the whereabouts of any ABS assets that are not currently in our possession so that we can keep track of everything and not lose any of the precious history of the choir).
We are beginning the next phase of the project, which is to digitize, archive and make available these items and records of the choir. If you have any historical documents, photos, recordings, or personal stories that you would like to add to the archive to help complete the story of the choir and school, please contact us.
We can't do this on our own. Please help support our missions and make a tax deductible donation to The Boychoir Foundation today. Contact us if you have any questions or concerns.